Carbon Steel Seamless Pipes, ASTM A53 Carbon Pipes, CS Seamless Pipe Supplier, ASME SA106 Carbon Steel Seamless Pipe, Seamless Carbon Steel Pipes Exporter in Mumbai, India.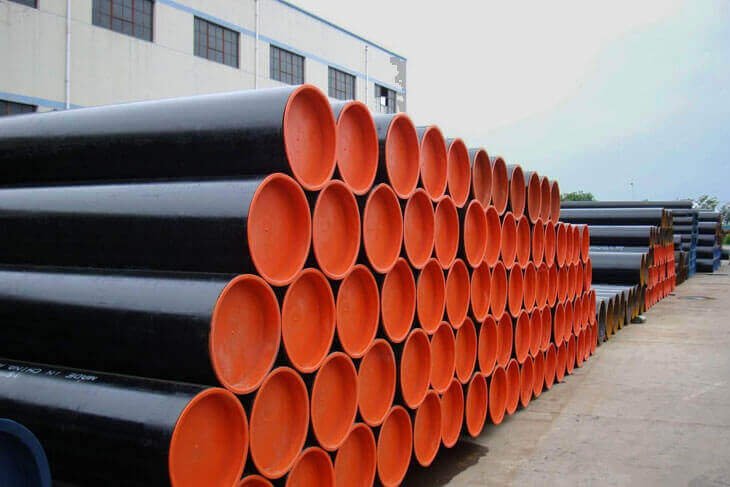 Dinesh Tube India is one of the pioneer exporter and stockiest supplier of carbon steel pipes all over the world. Buyers prefer to buy these pipes from them because they offer customization specification property that varies in size, shapes and thickness as per their necessity. The industry is offering several unique features on their product that are highly appreciated by the buyers. Features like good end finishing, high performance, durability, accurate dimensions, and reasonable market price. Moreover, the raw material that is used in the manufacturing is procured from the reliable vendors in order to enhance the efficiency of the Carbon Steel Seamless Pipes.
Industrial Carbon Steel Seamless Pipe Supplier, Carbon Steel Grade A Pipes, Gr.B Carbon Steel Seamless Pipes, Carbon Steel Round Pipes, Grade C Seamless Pipes Stockists, Carbon Steel A53 Seamless Pipes Supplier in India.
The presence of high nickel and chromium content in Carbon Steel Seamless pipes makes them good corrosion resistance and highly durable in various tough situations. The pipes are highly resistant to reducing and oxidizing media, improved oxidation resistant at elevated temperature. The other general characteristics of Carbon Steel Seamless Pipes are highly ductile, malleable, good corrosive resistant, crevice corrosion resistance and stress crack corrosion resistance.
The industry professional conducts several material tests on the Carbon Steel Seamless Pipes in order to ensure its strict quality before finally delivering it to the clients across the world. The material tests such as mechanical test, hardness test, positive material identification, inter granular corrosion test, flaring test, flattening test, micro and macro test, bend test and general corrosion test are some of the tests performed on the pipes.
Furthermore, the relevant document offered along with the Carbon Steel pipes helps the customer to assure and check the efficiency of the delivered product. The documents such as fumigation certificate, welding procedure specification, QAP, heat treatment chart, material test certificates, self-inspection certificate, material traceability record and guarantee letter are some of the documents offered with the seamless pipes to the clients across the world.
To preserve the quality and efficiency of the Carbon Seamless Pipe until the destination point, the industry used an efficient packaging method that helps in eliminating any kind of severe damages and other quality rendering. The pipes are wrapped in poly bags and then packed in wooden crates, cases or pallets that are free from fumigation and other kind of impurities.