CORTEN* Steel Plates, COR-TEN Plate, ASTM A242 Corten® Steel Plate, Corrosion Resistant Steel Plate Supplier in India, Corten Steel Plates Manufacturer in India.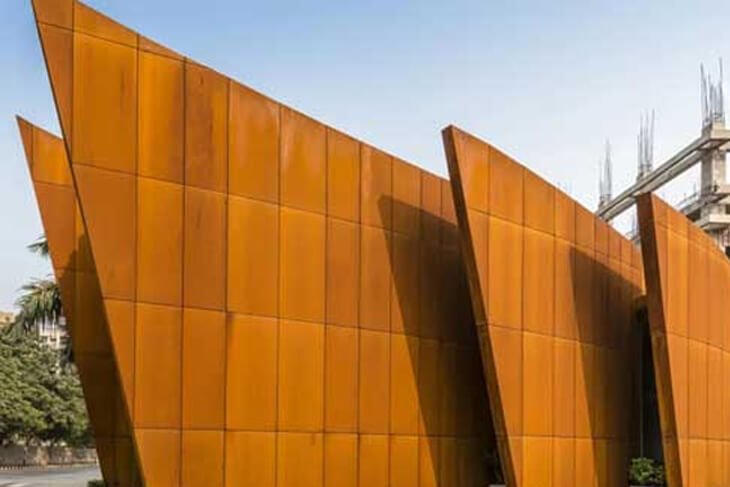 Dinesh Tube India is a prominent manufacturer, supplier and exporter of Corten Steel Plates manufactured using high-quality raw materials and latest technology keeping in mind the various industrial requirements and globally accepted quality standards. Corten Steel is high strength, low alloy weldable structural steel with exceptional weathering resistance. The chemical composition of the steel allows for the creation of a layer of rust that coats a building without altering the mechanical characteristics of the steel.
ASTM A242 Corten Steel Plates, Corrosion Resistant Steel Plate Exporters, Corten Hot Rolled Steel Plates, Corten* Plate Stockist, Corten Steel Resistant Steel Plate, Corten Steel Plates Supplier in Mumbai, India.
Dinesh Tube India is a prominent manufacturer, supplier, exporter and stockist of Corten steel plates in Mumbai, India. We manufacture these Corten Steel Plates in accordance to national and international quality standards. Corten Steel Plates, also known as Cor-Ten steel Plates, is a weathering steel plates that is corrosion-resistant, but is not rust-proof. This steel alloy is commonly used in landscaping and other outdoor applications because it produces a protective coat of rust after about six months of exposure to oxygen and moisture. Since this rust coating (patina) protects the steel from further corrosion, painting or additional weatherproofing is not needed. We supply these Corten Steel Plates in various sizes, thickness, and specifications and also customize them as per the requirements of or clients' at the most reasonable prices. Corten steel plates are a low cost, require minimum maintenance solution for structural and decorative applications. Corten Steel Plates exhibit features like high strength for heavy or load bearing structures, minimal maintenance and creates a distinctive, artistic finish. Weathering refers to the chemical structure of these steels, which enables them to show enhanced resistance to atmospheric corrosion compared to other steels. This is because, under the influence of the weather, the steel forms a protective layer on its surface.
We Stock these Weathering Steel Plates in various grades like Corten A, Corten B, S355J0WP, S355J0W, S355J2W, A588 Grade A, A588 Grade B, A588 Grade C, A242 Type 1, SA588 Grade A, SA588 Grade B, SA588 Grade C. Corten A Steel Plates are available in various finished like black painted, PE coated, Galvanized, color coated, anti-rust varnished, anti-rust oiled, checkered, etc.
Corten B Steel Plates are used in various applications like outdoor sculptures, Marine Transportation, Tanks, Corten Facades, Buildings, Rail Wagons, etc. We can provide these all Corten Steel Plate in various cut size with the help of our extensive expertise in processing steel plate products. We also supply various test certificates along with our Corten Steel Plates to ensure 100% client satisfaction.