Low Temperature LF2 Socket weld Flanges, LTCS LF2 Blind Flanges, ASTM A350 LF2 Low Temperature Carbon Steel Slip on Flanges, LF2 Carbon Steel Lap Joint Flanges, ASTM A350 LF2 Low Temperature Carbon Steel Flanges Exporter, Carbon Steel LF2 Weld Neck Flanges Supplier in Mumbai, India.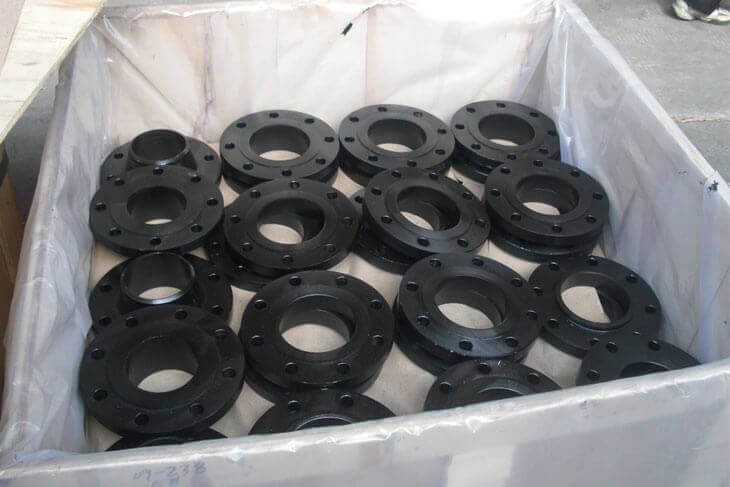 Dinesh Tube India has appointed a skilled and knowledgeable team of holding experience as metalists. We ensure that these flanges are structured effectively. Third party inspection is also welcomed by the industry to confirm the suitability and workability of the products as per the requirement. Moreover, customized fabrication is done as specified by our valuable patrons. Carbon Steel LF2 Flanges offers Moderate range of ductility as compared to other grades.
Low Temperature Carbon Steel LF2 Long Weld Neck Flanges, Low Temperature LF2 RTJ Flanges, ASTM A350 LF2 Low Temperature Carbon Steel Threaded Flanges Supplier, ASTM A350 LF2 Low Temperature Pipe Flanges, LTCS LF2 Flanges, ANSI B16.5 Low Temperature LF2 Spectacle Blind Flanges Stockists in India.
Due to its low molybdenum content, it offers medium resistance to corrosion and benefits more to withstand nitric acids and other oxidizing media. This grade usually requires going through thermal treatment to develop special properties. Generally, these grade flanges are more derivative as well as more demanded then austenitic grade steel.
Quality testing:
Dinesh Tube India ensures that all the products fabricated in the industry meet the quality standards thus we conduct a series of testing on each product. Testing on various parameters allows the industry to check the quality. The main motto of the industry is to fabricate qualitative product along with the quantity.
Carbon Steel LF2 Flanges are manufactured by considering the industrial norms as well as in accordance with international standards.
Test certificates:
On a regular basis, company tempts to provide the reports and documents namely raw material certificates, Third party inspection report, 100% radiography test, and others. Also if there are any other requirements than the client can specify. Shipping too requires great care a little bit of carelessness can lead to severe damage during transit.
Documentation and shipping:
Before dispatching the goods to the clients the test reports relating to the tests conducted are attached along with the finished goods. Tests such as mechanical testing, micro, and macro test, Spectro analysis test, flattening test, positive material identification testing are conducted to assure the quality of the fabricated product. Documents such as heat treatment charts, quality assurance plan, guarantee letter, material test certificates, and fumigation certificates are provided to the clients.
Standardized packing is initiated in wooden cases, plywood crates, also wrapping is done in bubble wraps or plastic wraps before placing in the packing containers.