Monel Alloy 400 Flanges, Monel 400 Blind Flanges, Monel 400 Weld Neck Flanges, Monel 400 Slip on Flanges, Monel 400 Lap Joint Flanges, Monel 400 Flanges Exporter, ASTM B564 Monel 400 Socket weld Flanges, Monel Alloy 400 Flanges Supplier in Mumbai, India.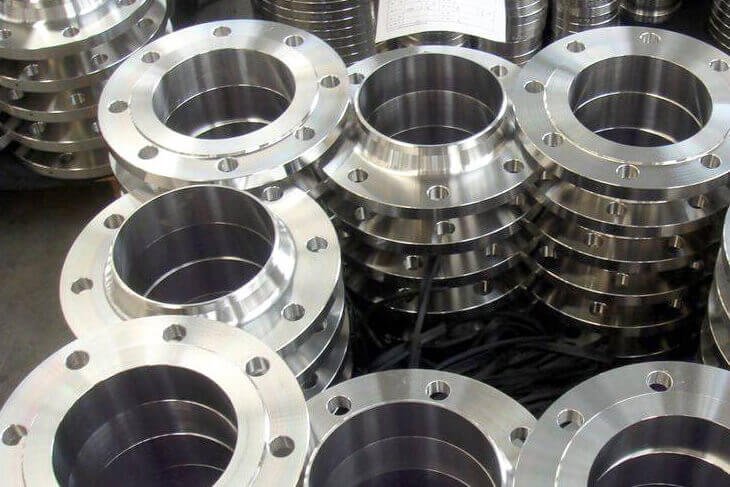 Dinesh Tube India may be considered as one of the best and recognized traders, supplier, and dealer of numerous amounts of flanges in different kind of other products related to this field. We make sure that the Monel 400 Flanges supplied by our company is fabricated by the admirable quality of raw materials with the help of entirely automated machinery of modernized technology. This provides a superb working capability for our clients. The flanges provided by our company offer outstanding resistance to a varied variety of corrosive media.
Monel 400 RTJ Flanges, Monel 400 Long Weld Neck Flanges in India, ASME SB564 Monel 400 Threaded Flanges Stockists, Monel 400 Pipe Flanges, Monel Alloy UNS N04400 Flanges, ANSI B16.5 Monel Alloy 400 Spectacle Blind Flanges Supplier.
This kind of flanges holds a great demand domestically in India and across the globe. The Monel 400 Flanges supplied by our company shows excellent feature of decomposition opposition. The cryogenic temperature of these kinds of flanges is 450 Degree F or 232 Degree C. we have an enormous amount of these kinds of flanges for our respected clients are obtained in a various variety of sizes and shapes. Further, we have associations with trustworthy and honourable manufacturers who safeguard that these kinds of flanges are made up by the usage of some decent quality rare material and modern technology machinery as per the industry's set standards and procedures.
In order to be assured about the quality of the products there are several strict quality tests that are done on the products. Some of these tests are the mechanical test, hardness test, Chemical analysis, flattening test, micro, and macro test, flaring test welding test, bending test and many more. The test reports of the tests done on the product are also provided along with the flanges in order to make our clients ensure regarding the performed tests. We also keep in mind the economics of our valuable clients so we are delivering these flanges at a reasonable price which is quote pocket-friendly.
The packaging of the Monel 400 Flanges is done in accordance to export packing standards. Initially, the flanges are wrapped in gunny bags, polybags or bubble wrap. That is then kept in wooden boxes or pallet and in cartons. The delivery is damage-free and can even be customized in accordance to the patrons. All the mandatory documents are included in the package along with the package.