Cu-Ni 90/10 Welded Tubes, CuNi 90/10 Tubing, ASTM B111 Cupro Nickel 90/10 Seamless Tubes, ASTM B111 CuNi 90/10 Welded Tubes, Copper Nickel 90/10 Tubes Supplier, CuNi 90/10 Tubes Exporter in Mumbai, India.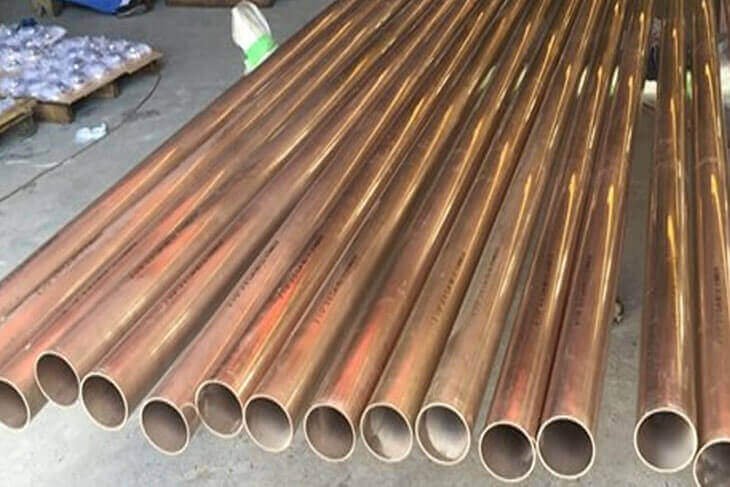 CuNi 90/10 Tubes is an alloy that is having moderate strength and is having thermal stability in the greater temperature levels. The high resistance to oxidation of the alloy in the moist air is visible and steam. Copper-nickel alloy is having about 2% to 30% of nickel and is highly resistant to stress corrosion cracking and oxidation. Copper-nickel alloy is having good fabricability and is resistant to biofouling. The addition of elements like niobium, manganese, chromium, and iron in it improves corrosion resistance and strength.
CuNi 90/10 Seamless Tubes, Cupro Nickel 90/10 Welded Tubes, Copper Nickel 90/10 Tubes Stockists, Cu-Ni 90/10 Round Tubing, ASME SB111 CuNi 90/10 Seamless Tubes, Cupro Nickel 90/10 Tubes Supplier in India.
90/10 alloys are used widely due to inexpensive and are having greater resistance to seawater corrosion because of the presence of iron and manganese alloy. Dinesh Tube India is engaged in exporting and supplying the very high quality of CuNi 90/10 Tubes. The offered range of product is manufactured using the high quality of raw substances. They are offering the tube in different grades, specifications and wall thickness as per the needs of the buyers. They are also providing the product at reasonable rates addition to value added as well as sales after services. All across the globe, the product is highly appreciated because of high tensile strength, flexibility, durability, long-lasting, sturdiness etc. It also possesses stress corrosion cracking, pitting/oxidation, crevice corrosion, and general corrosion resistance.
Before shipping of the product, various tests are conducted that assure the quality of product supply. The tests are positive material identification test, mechanical test, pitting resistance test, chemical test, hardness test, intergranular corrosion test etc. This does not allow the poor quality of the product to be shipped.
The documents are provided to the buyers namely raw material test report, quality assurance plan, packaging list, commercial invoice; guarantee letter, material traceability report etc. The mill test certificate is also provided to the patrons as per EN 102104/3.1B, 100% radiography test report, raw material certificate, and third-party test report.
During the time of shipping of the CuNi 90/10 Tubes, the packaging of tubes is done using environmental poly bags, wooden cases, and wooden pallets etc. The product is thus supplied that assures safer and damage free shipping and also is done on time without causing any delaying.