Hastelloy C22 Lap Joint Flanges, Hastelloy Alloy C22 Flanges Supplier, Hastelloy C22 Flanges Exporter, ASTM B564 Hastelloy C22 Socket weld Flanges, Hastelloy C22 Slip on Flanges, Hastelloy C22 Weld Neck Flanges, Hastelloy Alloy C22 Flanges, Hastelloy C22 Blind Flanges in Mumbai, India.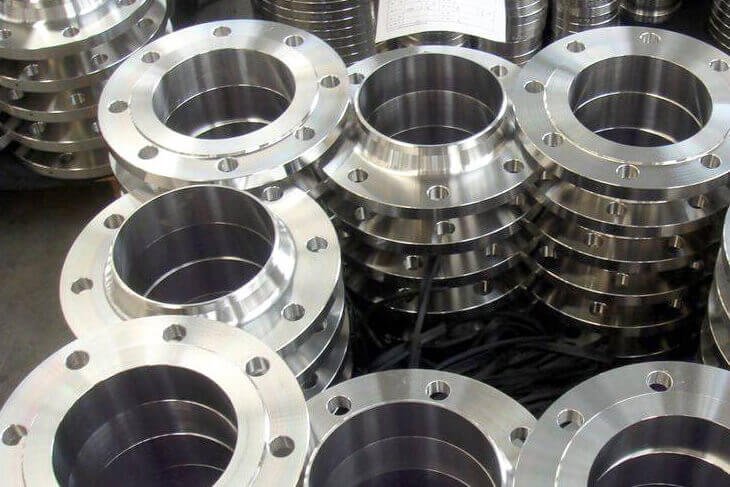 Dinesh Tube India is one of the prominent supplier, trader, and distributor of Hastelloy c22 Flanges. We are specialized in offering a wide range of flanges such in ferrous and nonferrous grades. We are ISO Register Company known for our quality. Hastelloy c22 Flanges are one of the well know and well-proven alloy flanges having the composition of nickel, chromium, and molybdenum. It has the chief attribute that is resistance to both oxidizing and non-oxidizing chemicals.
Hastelloy C22 Pipe Flanges, ASME SB564 Hastelloy C22 Threaded Flanges Stockists, ANSI B16.5 Hastelloy Alloy C22 Spectacle Blind Flanges Supplier, Hastelloy Alloy UNS N06022 Flanges, Hastelloy C22 RTJ Flanges, Hastelloy C22 Long Weld Neck Flanges in India.
These are protected from pitting, crevice and stress corrosion cracking. It has higher chromium content that provides higher resistance to various chemicals such as chlorides, sulfides, alkalis, sulfuric acids, phosphoric acids, and many other harsh chemicals.
These flanges impart exceptional resistance to chloride-induced pitting attacks. These flanges are very ductile, exhibits good weldability and easily fabricated from standard machines. These are available in various forms, sizes, shapes, standards, specifications, designations and custom dimensions so one can get their desired products as per their application requirements.
These flanges are both hot and cold formed. The hot working temperature range of alloy is 1600- 2250 degree F. these are quenched with water after the hot working process. The heat treatment process is recommended after the hot working process to ensure maximum corrosion resistance. In the annealed conditions flanges are cold worked. This alloy has higher work hardening rate than conventional grades. In process anneal is required for a high degree of cold working. After the manufacturing process, the brushing process is induced to remove the heat tint and refine the surface area. Additionally, these not require pickling process.
Preferably, the machining is performed in the annealed conditions. This alloy is prone to work hardening, only low cutting speeds feeds and cut depths are required for machining.
From the beginning of production raw materials are tested. The fabricated products are processed for quality inspection that ensures the quality of the product. The tests included in our quality sections are PMI test, hardness test, IGC test, mechanical test, tensile test, radiographic test, ultrasonic test, destructive/nondestructive test, and visual inspection. The final inspection is performed by third parties that assure the quality of Hastelloy c22 Flanges.