Alloy Steel F91 Blind Flanges, Alloy Steel F91 Flanges Exporter, CrMo F91 Flanges, Alloy Steel F91 Slip on Flanges, ASTM A182 Chrome Moly F91 Socket weld Flanges, CrMo F91 Lap Joint Flanges, Alloy Steel F91 Weld Neck Flanges Supplier in Mumbai, India.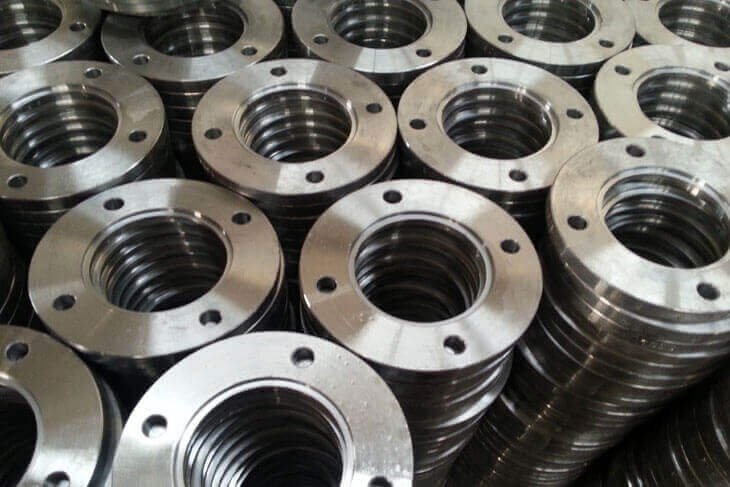 Dinesh Tube India understands and applies continuous improvement in the machining and designing techniques for providing complete customer satisfaction. Due to properties such as superior performance in several harsh working conditions, dimensional accuracy, special quality service, durability, etc are demanded by the client base in the market.
Alloy Steel F91 Pipe Flanges, ASME SA182 Alloy Steel 9Cr-1Mo-V Threaded Flanges Supplier, CrMo F91 RTJ Flanges, Chrome Moly F91 Flanges, Chrome Moly F91 Long Weld Neck Flanges, ANSI B16.5 Alloy Steel F91 Spectacle Blind Flanges Stockists in India.
Custom made designs are made available to the patrons with the optimization of the overall resources to improve the business relationship in order to meet futuristic goals. Alloy Steel F91 Flanges are highly durable and with the availability of the products in varied sizes, dimension, length and sizes it can easily fit in any dimension as required by the application.
Quality assurance:-
Strict quality assurance is followed in order to achieve high recognition by rendering the best quality Alloy Steel F91 Lap Joint Flanges range at the most reasonable rates. All the important decisions relating to the quality factor and quality management is handled by the quality management department of the industry. Test certificates in accordance with the QAP are provided to the buyers, the certificates are proof of the test performed on the fabricated products.
Documentation and marking:-
Documents of the product are done to assure the quality of the Alloy Steel F91 Pipe Flanges to the respected clients. They can easily specify the required documents although we provide NABL approved test reports, 100% radiography test reports, Third party inspection report, etc. Moreover, the test performed on the products is done under the strict supervision of quality inspection team. Certain marking is done on the product relating to the dimension, trademark, speci0fication, and grade used for the fabrication of the product. Also, the marking can be initiated as per required by the respected client.
Packing and delivery:-
To avoid damage while transit goods are secured with the help of wooden or plywood boxes depending on the product. Also to avoid contamination, scratches, and contact of residuals or contamination of the end product they are wrapped in plastic wraps, bubble wraps, etc. Alloy Steel F91 Slip on Flanges are wrapped in bubble wraps or plastic wraps and then safely placed in a wooden box, plywood cases, pallets or as specified by the clients.
We understand the marketing need and the application requirement of the industrial and commercial sectors with effective use of resources.