ASTM B704 Incoloy 825 Welded Tube, Incoloy 825 ERW Tubes,ASTM B423 UNS N08825 Tubes, ASME SB423 UNS N08825 Tubes, ASTM B423 UNS N08825 Seamless Tubes, ASME SB423 UNS N08825 Seamless Tubes, ASTM B423 Incoloy 825 Seamless Tube, Alloy 825 Tube, Incoloy 825 Tubes Supplier, Incoloy 825 Tube Exporter in Mumbai, India.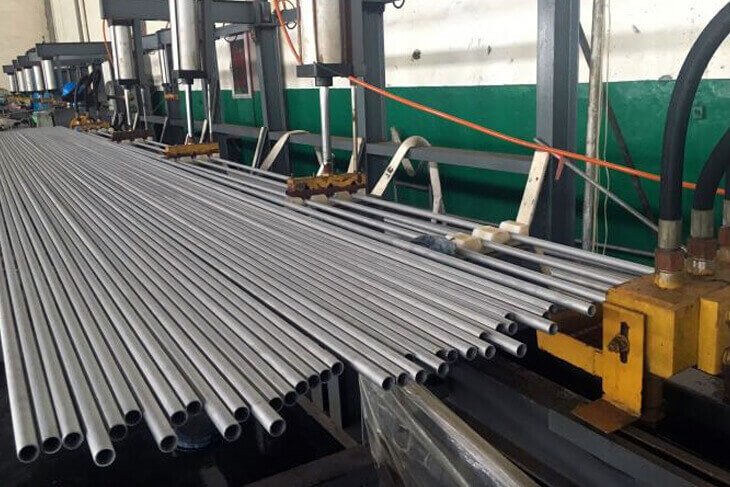 Dinesh tube India, a renowned and reputed manufacturer of Incoloy 825 Tubes is offering these tubes to its customers at a competitive price online. These tubes are known for their excellent and admirable features which makes them even more demanding for numerous applications worldwide. These tubes are available to customers in different shapes, sizes, forms and specifications as demanded by the customers for their application. The tubes offer excellent performance at high and elevated temperature without getting damage.
ASME SB423 Incoloy Alloys 825 Seamless Tube Stockists, SB423 UNS N08825 Seamless Tubes, B423 UNS N08825 Seamless Tubes, INCONEL 825 Seamless Tubes, ASTM B704 UNS N08825 Tubes, ASME SB704 UNS N08825 Tubes, ASME SB704 Incoloy Alloy 825 Welded Tubes, Incoloy 825 ERW Tube Supplier in India.
Well, if we talk about the manufacturing process these tubes are manufactured through steel strips that include Incoloy 825 alloy. The strips are rolled until they are made into required shape and size. After this, tubes are hot and cold rolled so that they get enough hardness and strength to bear high temperature and pressure. For manufacturing these tubes, the international quality standard raw material is used that is well inspected and tested by the quality inspectors.
In addition to the premium quality material, latest tools, machines and advanced technology is used for creating accurate shape and size of tubes as required by the customers.
These tubes are manufactured by qualified professionals hence these tubes exhibit various admirable features like high tensile strength, durability, formability, workability, pitting and crevice corrosion resistance, stress corrosion cracking resistance and more. All these features make Inconel tubes best for various industrial and commercial applications worldwide.
Incoloy 825 is basically chromium-iron-nickel alloy including copper, titanium, and molybdenum. The chemical composition of this alloy offers excellent resistance to different corrosive environments. It is crevice and pitting corrosion resistance. It even has outstanding intergranular corrosion as well as stress corrosion cracking. This alloy tubes have good mechanical as well as chemical properties from the moderate to high and extreme temperatures. Moreover, the hot working range for this alloy ranges from 1600 deg to 2150 deg F. it has good weldability for all types of conventional processes.
After the manufacturing process, Incoloy 825 Tubing are well inspected and tested by the quality experts. After this, the tubes are packed in bundles and other packaging material in order to avoid damages and rust.