ASTM B516 Inconel 690 Welded Tube, Alloy 690 Tube, ASTM B163 UNS N06690 Tubes, ASME SB163 UNS N06690 Tubes, ASTM B163 UNS N06690 Seamless Tubes, ASME SB163 UNS N06690 Seamless Tubes, Inconel 690 Tubes Supplier, Inconel 690 ERW Tubes, ASTM B167 Inconel 690 Seamless Tube, Inconel 690 Tube Exporter in Mumbai, India.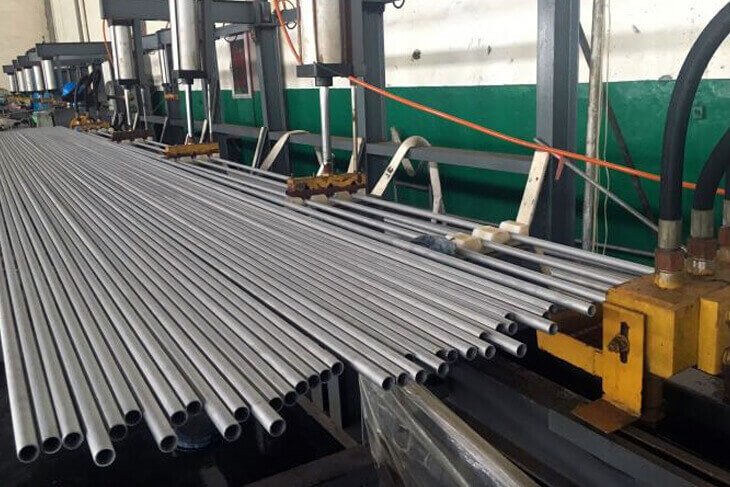 INCONEL 690 Tubes is high chromium content of 600 Inconel alloy with greater resistance to several oxidizing acids and salts and is sulphidation at different temperature ranges. The resistance to nitric acid and hydrofluoric acid mixture allows itself for pickling the shop duties. The excellent stress cracking resistance of alloy is caused it superseding Inconel alloy 600 in different applications. Recently alloy has also superseded alloy Inconel 601 as a material choice for the metal dusting atmospheres that in conjunction to alloy 693 Inconel has created a good engineering material for the new designs of the compact reformers.
ASME SB167 Inconel Alloys 690 Seamless Tube Stockists, SB163 UNS N06690 Seamless Tubes, B163 UNS N06690 Seamless Tubes, INCONEL 690 Seamless Tubes, ASME SB516 Inconel Alloy 690 Welded Tubes, Inconel 690 ERW Tube Supplier in India.
Currently, Dinesh Tube India is leading on the top as a reliable supplier and exporter of the very good quality of Inconel Alloy 690 Tubes. They are offering the very good quality of product range that is created as per several product quality standards and production techniques. The manufacturing of tubes is done using excellent quality of alloy, latest technology, and modern machinery. To all the buyers the product is offered at reasonable rates addition to value-added services.
The industry is giving priority to the documenting so that all a buyer can get the confidence of being fairly deal without misleading. The documents also prove reliability and truth worthiness of the industry when comes supplying of the product. Documents like fumigation certificate, product invoice, heat treatment chart, quality assurance plan, packaging list, guarantee letter, raw material test report, certificate of origin and material traceability report are provided to the buyers. Furthermore, MTC in accordance with EN 10204/3.1B is provided. The TC like third-party test report, material certificate etc is provided to the global patrons.
The testing is performed by the expert team on INCONEL 690 Tubing to assure the quality of product delivering to all the buyers. The tests are PMI test, hardness test, IGC test, pitting resistance test, chemical test and mechanical tests etc are conducted.
To assure timely and damage free shipping of the product, high quality of the packaging is recommended. The packaging is done in wooden cases/pallets/boxes, in bundles and wrapped in environmentally ploy bags etc. This does not let the product quality getting spoiled.